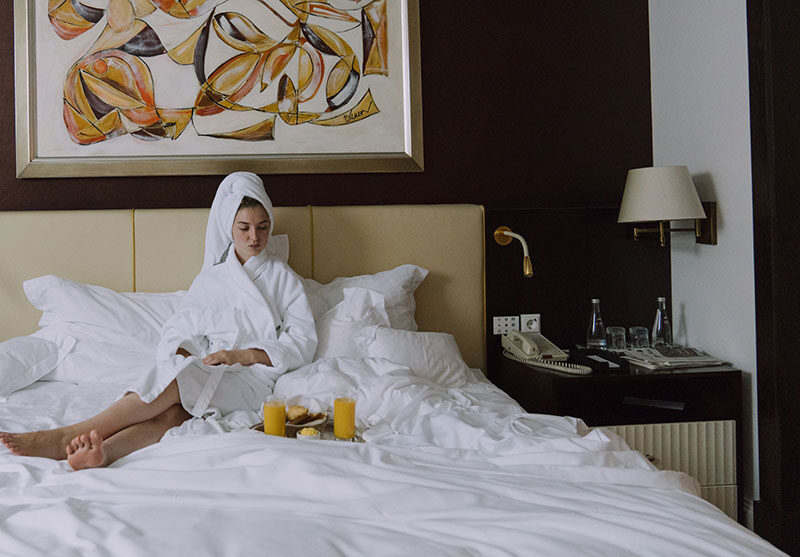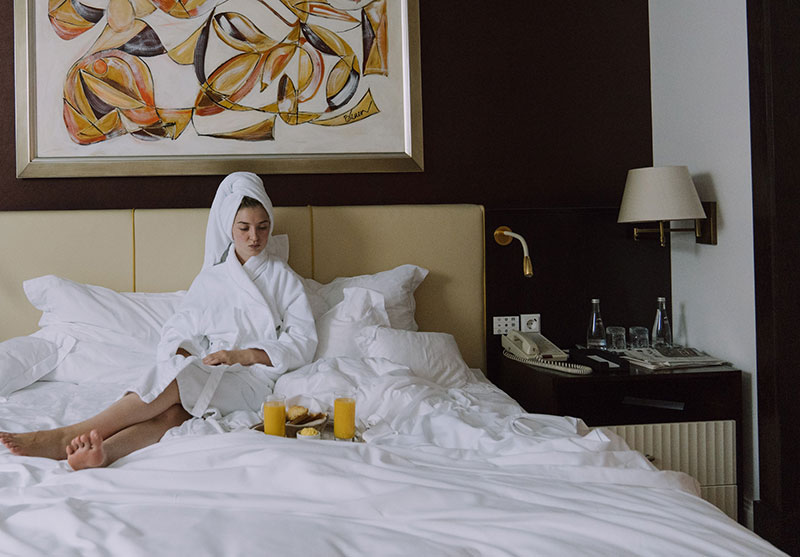 It is important as a guest services provider to be in touch with both your guest's needs and the status of the resources used to address those needs.
The Room Management application provides a graphical interface containing a summary view of rooms, their status, and guest assignments. The application sets the stage for you to provide a more personal touch when supporting your guests.
Room status is fully customizable and may be fit to match your internal processes regarding room availability. It is displayed in an easy-to-understand summarized graph using colors and descriptors to convey room state. As room states change, specific activities, features, or services may be automatically initiated.
Room State Custom Processes
Upon check-in, you can collect information such as their name, email address, and mobile phone number and offer to set up the wake-up call service - all as part of that process. It also sets the assigned room state to an occupied status.
Upon check-out, the system clears all guest-specific information from the room and its related services, such as clearing out any un-retrieved voicemail messages.
Room State Notification or Other Requests
Your guest's mobile phone number may be used to provide custom messaging related to room state or any other requested information.
Guest Based Caller-id
The system uses the information collected on check-in to provide customized caller-id so when your guest calls the Front Desk or Concierge Services, they may answer with a more personable greeting.
Email Notification of Voicemail
The email address is used to forward any voicemail messages left for them to their email.
Wake-up Call Custom Processes
The wake-up call service can be set up for not just one night but for the guest's entire stay and can be changed later if necessary.
Guest Services
Voicemail Guest Personalization
Your guests can set up the room voice mailbox as if it were their own to include a custom greeting and customized name recording. Along with providing the traditional voicemail system feature sets such as message playback, save, etc. If an email notification was selected during guest check-in, they would receive copies of any voicemail messages. If the guest chooses not to customize the mailbox, default settings will convey the needed greeting information to the calling party.
Voicemail Auto Administration
Upon check-out, the system will wipe the slate clean, and your guest can be assured that any personal information or messages left on the system will be removed.
Customized Experience
Upon answer of the notification call, the system plays your hotel's personalized greeting and can offer the guest any number of customizable options if they stay on the line. Such as asking for the breakfast menu, or how about the local events of the day?
Guest Setup via Room Phone
A guest may also set up their wake-up call from the room phone via a speed dial button or by dialing a feature code that is labeled on the phone. The system accommodates both standard and military time entries.
Automated upon Check-in
Setup single or multiple wake-up instances via the Room Management application. Each wake-up instance can be set for its own time, one or more per day, according to the need of your guests.
Notification with snooze and unanswered customization
Upon wake-up call notification, the guest can "snooze" the notification by just ignoring the call. The system will try multiple times. You get to determine the number of retries and how often each retry occurs. If the guest does not answer the wake-up call after the maximum number of tries, it will notify your Front Desk staff. You can determine what the next step will be based on your policies.
911
Front Desk notification with custom instructions
Your Front Desk staff (or any dial-able number) will be notified that a guest in room xxx has dialed 911. So, they will be able to handle the 911 emergency however you see fit while being prepared for the arrival of emergency personnel.
PSAP to Front Desk connectivity upon room call failure
If the guest room phone loses connection during the call, the 911 center will be connected to your Front Desk.
Housekeeping
Help your cleaning staff keep track of and communicate room state according to your internal processes and policies. Those changes will be visible, real-time, to your Front Desk staffing and management via the Room Management application. Room state changes may be input:
Via Room Phone
Codes dialing from a room phone will update state information in the Room Management application regarding that room, such as Needs Cleaning, Cleaning, Ready for Inspection, etc. The process is fully customizable to match your needs.
Via graphical tablet interface
Your staff can access the same Room Management application that your Front Desk staff does via a handheld tablet, allowing them to change the room state.